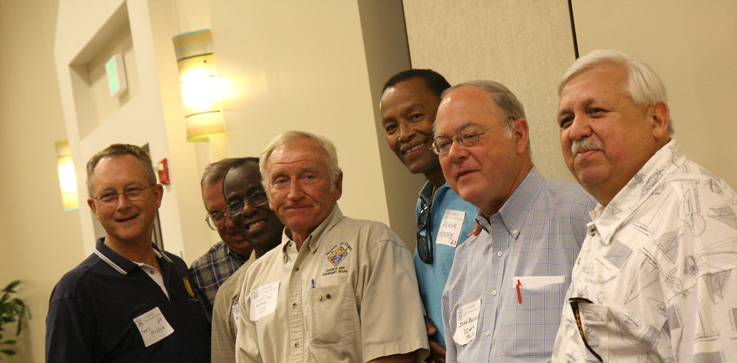 Monday December 9, 2013
Washington News
New Simpson-Bowles Fiscal Plan
On February 19, Moment of Truth Co-Chairs Alan Simpson and Erskine Bowles released their new proposal to resolve the fiscal challenges facing America. The plan, "A Bipartisan Path Forward to Securing America's Future," has a goal of creating $2.4 trillion in additional deficit reduction.

Simpson-Bowles recognizes that the American Taxpayer Relief Act of 2012 and the Budget Control Act of 2011 will start to reduce the deficit. However, they maintain that the essential goal for the nation is to create a bipartisan plan that will reduce debt below 70% of gross domestic product (GDP) by the end of the decade.

There are eight specific goals for their plan:

1. Growth – Protect the economic recovery.
2. Safety Net – Protect the most vulnerable in society.
3. Tax Expenditures – Limit itemized deductions and lower rates.
4. Entitlements – Modernize and create reasonable growth limits.
5. Healthcare – Control spending while enhancing quality.
6. Sequester – Replace with responsible cuts.
7. Social Security – Make solvent and limit per capita growth in spending.
8. Debt Limits – Index this in the future.

The plan creates a practical balance between new taxes, healthcare limits and reductions in discretionary spending and Social Security. Approximately one-fourth of the deficit reduction would come from limiting tax expenditures (reducing itemized deductions). Another one-fourth would result from healthcare reforms that create spending limits. The final one-half of the solution is from reduced discretionary spending and changes in Social Security.

Simpson-Bowles stated, "There is no perfect solution to our fiscal problems. However, we believe strongly and sincerely that an agreement on a comprehensive plan to bring our debt under control is possible if both sides are able to put their sacred cows on the table in the spirit of principled compromise."

The key goal of their plan is to stabilize and then gradually reduce the national debt as a percentage of the economy. Simpson-Bowles continued, "To be credible for the long-term, we believe that the debt must be brought to below 70% of GDP by early next decade, and kept on a downward trajectory thereafter."

Editor's Note: Former Sen. Simpson has a reputation in Washington for a sense of humor. He states that his life goal is to make every American equally upset with him. The Simpson-Bowles plan is a thoughtful, bipartisan effort that is sure to draw criticism. However, for the good of the nation and philanthropy, a plan that restores economic growth is important to everyone.


Reform Taxes but Protect Philanthropy

In a major media publication this week, Harvard Economics Professor Martin Feldstein recommended a new method for reducing deficits. He suggests that the best solution on the tax reform front is to create a cap on itemized deductions.

Feldstein's cap may be illustrated through a simple example. A married couple with $100,000 of income is in the 25% federal tax bracket. Feldstein proposes that the itemized deductions for this couple be capped at approximately 8% of income or $8,000. The largest itemized deductions are frequently for mortgage interest, state and local taxes and medical expenses. The deduction limit could also be extended to cover municipal bond interest and employer-paid health insurance.

Feldstein would create one major exception to this cap. That is for charitable giving. He states, "The existing charitable deduction in particular deserves to be maintained. Unlike other deductions and exclusions, it does not benefit the taxpayer but provides important private support for universities, religious and cultural institutions, and hospitals."

The logic of the Feldstein proposal is that it creates an overall cap on deductions. Any attempt to limit a specific deduction such as mortgage interest, state and local taxes or medical expenditures will produce a firestorm of opposition. Therefore, Feldstein suggests that the only politically acceptable way to approach tax expenditures is to create a general cap on the total value of deductions.

Under the Feldstein plan, most of the tax savings from a cap will come from upper-income persons. Feldstein also recognizes that these taxpayers are already subject to higher taxes as a result of the American Taxpayer Relief Act of 2012.

Editor's Note: Your editor and this organization take no specific position on the Bowles-Simpson plan or the Feldstein proposal. This information is offered as a service. It is good news for philanthropy that Feldstein and others recognize that charitable giving is different from other types of itemized deductions. This recognition of the importance of philanthropy to America is very encouraging.


Published February 22, 2013
Previous Articles
Senate Proposal to Replace Sequestration
IRS Push Against Identity Theft
ATRA Will Increase Charitable Giving by $3.3 Billion
No Budget, No Pay for Congress