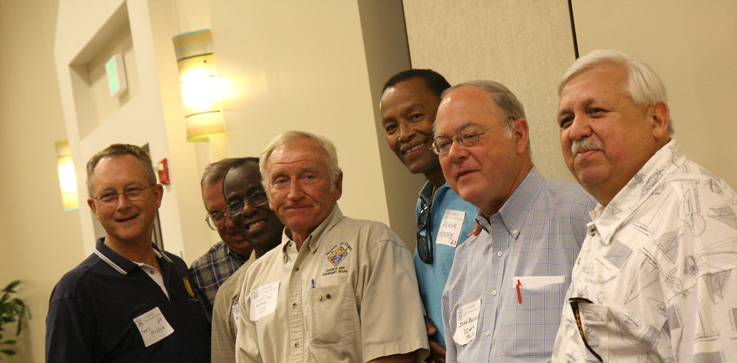 Thursday April 24, 2014
Washington News
President and VP Release 2012 Tax Returns
Each year President Barack Obama and Vice President Joe Biden release their tax returns. Both the Obamas and the Bidens have released their joint tax returns for year 2012.

President Obama paid a tax rate of 18.4% of his adjusted gross income of $608,611. The Obamas paid federal tax of $112,214 and Illinois tax of $29,450.

In the new budget, the White House has proposed a tax cap on itemized deductions. The proposal would limit the tax savings to the 28% bracket. Because of the adjusted gross income of President and Mrs. Obama and their itemized deductions that equal $258,385, they would have reduced future tax savings from these deductions. In effect, a portion of their itemized deductions would not produce increased savings under the proposed change.

During 2012, the Obamas made gifts to charity of $150,034. This is approximately 25% of their adjusted gross income.

There were multiple beneficiaries for their charitable gifts. The largest gift of $103,871 was made to the Fisher House Foundation, a charitable organization that provides housing for injured military members and their families.

Other substantial gifts were made to the American Red Cross, the Boys and Girls Club, the Children's National Medical Center, Citizens United for Research in Epilepsy, Habitat for Humanity, Palm Beach County Law Enforcement Foundation, Sidwell Friends School and the United Negro College Fund.

Vice President Joe Biden and his spouse Jill Biden received income from his salary and from her employment as a professor at a community college. Their adjusted gross income was $385,072. They reported itemized deductions of $62,390. The Bidens paid federal tax of $87,851 or 22.8% of their income. They also paid Delaware tax of $13,531 and Virginia tax of $3,593.

The Bidens made charitable gifts of $7,190. A total of $2,000 in charitable gifts were reported on IRS Form 8283. These included gifts of clothing, furniture, bicycles, kitchenware and other items to Goodwill and to the Ministry of Caring, a homeless ministry in Wilmington, Delaware. Other gifts were made to the Annual Catholic Appeal for the Diocese of Wilmington and the Northern Virginia Community College Alumni Scholarship Fund.


IRS Pledges to Attack Tax Fraud

As the filing season for tax year 2012 drew to a close on April 15, the Senate Finance Committee held a hearing and requested a report by IRS Acting Commissioner Steven T. Miller on his efforts to combat identity theft.

Commissioner Miller reported that the IRS spent $328 million on the efforts to stop tax fraud from identity theft in 2012. Miller stated, "Refund fraud caused by identity theft is one of the biggest challenges facing the IRS today, and the harm it inflicts on innocent taxpayers is a problem we take very seriously. The IRS has a comprehensive identity theft strategy focusing on preventing tax return fraud, investigating these crimes and assisting taxpayers victimized by identity theft."

Miller reports that the IRS now has over 3,000 employees that are working on identity theft and tax return fraud. Last year the IRS suspended or rejected two million returns for suspected tax fraud.

The Criminal Investigation Division of the IRS is currently pursuing 800 separate investigations for identity theft. Miller reported that a barrier to successfully combating identity theft is "the sheer volume and complexity of these crimes, as identity thieves continue creating new ways of stealing personal information and using it for their gain."

At the hearing, Miller proposed several specific strategies to combat identity theft in 2013. These include restricting access to the death master file, requiring truncated or shortened Social Security numbers on W-2 forms, increasing the civil penalty for identity theft by $5,000 and adding identity theft to other sections of federal criminal law.

Miller concluded by noting, "During FY 2012, the IRS protected $20 billion of fraudulent refunds, including those related to identity theft, compared with $14 billion in 2011. The IRS stopped five million suspicious returns in 2012 – up from three million suspicious returns stopped in 2011."


Published April 19, 2013
Previous Articles
White House Releases 2014 Budget