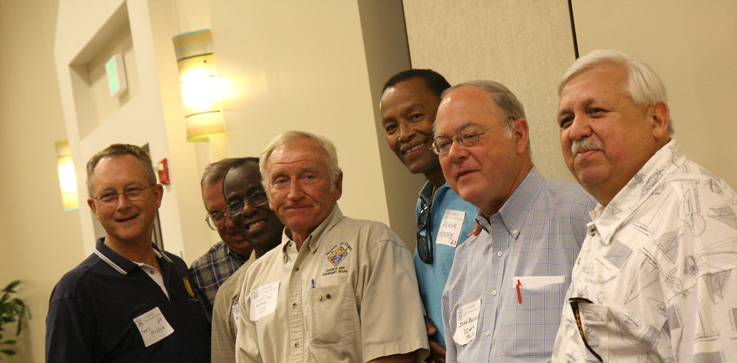 Wednesday September 3, 2014
Washington News
High-Tech Discusses Tax Reform
Senate Finance Chair Max Baucus (D-MT) and House Ways and Means Committee Chair Dave Camp (R-MI) continued their quest for tax reform. They traveled this week to California to visit two Silicon Valley companies. Square is a 2009 startup that is developing mobile payment technology. With the growth of smartphones, there is great opportunity for companies to build systems that enable you to make payments directly from your smartphone.
They also visited the microprocessor giant Intel. Intel produces computer chips for a variety of electronic devices. The cooperative relationship between Microsoft and Intel was a key factor in the worldwide development of the personal computer.
Baucus and Camp released a joint statement. They stated, "Tax reform provides an opportunity to spark economic growth, create jobs and make U.S. businesses more competitive." They praised the entrepreneurial spirit in Silicon Valley and noted, "While Washington often gets bogged down in politics, people out here in the Bay area are focused on real solutions. We are here to gather input and ideas on how we can improve the tax code and spark growth and innovation."
Baucus praised Intel and Square for being "innovators." He expressed the hope that "tax reform would help all of the companies that are innovating and benefitting the nation."
Camp continued by noting that "job creators, like these in the high tech sector, are looking for a simpler, flatter, fairer tax code."
Both Baucus and Camp stated that they will continue their efforts to promote tax reform with future meetings.
Editor's Note:
Camp and Baucus were asked by the media how the drafting of their tax bills is progressing. Camp stated that the House bill is moving steadily forward. He is "filling in the gaps" and anticipates releasing the bill this fall. Baucus acknowledged that the Senate moves more slowly. He and Senate staff are analyzing 1,100 pages of reform proposals from other senators. He hopes to work together with Ranking Member Orrin Hatch (R-UT) to build a bipartisan bill.
IRS Website on Affordable Care Act
On August 16 the IRS announced a new "Affordable Care Act (ACA)" section of its website. The new site at
www.irs.gov/aca
exists to "educate individuals and businesses on how the healthcare law may affect them."
There are three major sections to the new website. These describe the effects of the ACA on individuals and families, employers and other organizations.
1. Individuals and Families
– For 2013, the website notes that medical deductions for individuals will be permitted to the extent they exceed 10% of adjusted gross income. However, for those taxpayers age 65 and above, the limit will be 7.5%.
In 2014, there will be major changes. The individual must have coverage or pay the IRS an "Individual Shared Responsibility Payment." This section leads to an extensive 25 question description of the effects of the ACA on individuals. The explanation explains what type of coverage qualifies, who is excluded from the bill and how to make payment to the IRS for the Individual Shared Responsibility Payment.
2. Employers
– There are three general categories of employers. Employers with less than 25 employees may qualify for the small business healthcare tax credit. Those employers with 25 to 50 employees may benefit from the small business health options program. Employers with 50 or more full-time-equivalent employees are required to offer insurance under the ACA.
3. Other Organizations
– There are extensive provisions in the ACA that will affect many other organizations. Two specific categories that are covered are insurers and nonprofits.
Editor's Note:
The ACA is a very complex bill that will have major impact on all Americans. The IRS has made this initial effort to explain the ACA basics through this website. There will be substantial further explanation by the IRS as the ACA is implemented.
Published August 23, 2013
Previous Articles