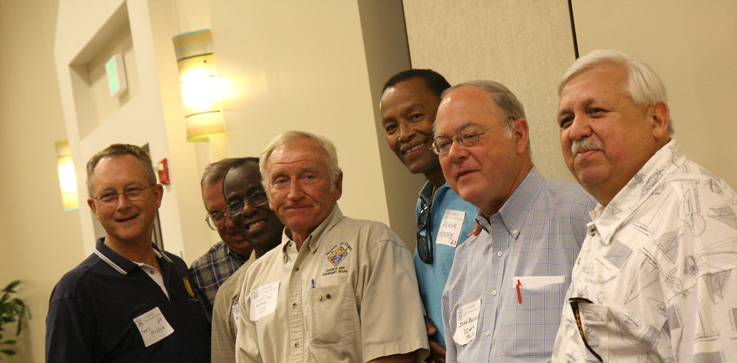 Thursday April 24, 2014
Washington News
Coalition Supports Charitable Tax Deduction
This week, Senate Finance Chair Max Baucus (D-MT) and House Ways and Means Committee Chair Dave Camp (R-MI) continued to move forward with tax reform. Sen. Baucus noted that last week he and Rep. Camp had launched a new TaxReform.gov website.

Baucus stated, "Since the launch of the site less than a week ago, we have received thousands of ideas directly from the American people on how to improve the tax code. I want to thank all those who shared their ideas and opinions, and I encourage more people to logon to TaxReform.gov to let us know what you think the nation's tax system should look like."

Chairman Camp led a two-hour strategy meeting for House Republicans. They considered multiple ideas with respect to the process for tax reform. Several of the 30+ suggestions focused on ways that "fast track" tax reform could be included in the August negotiations to increase the federal debt ceiling. Chairman Camp indicated that the discussions will remain flexible in order to move forward in August with a tax reform process.

A Charitable Giving Coalition (CGC) of over 40 associations and major charities sent a letter to Chairman Camp and Ways and Means Ranking Member Sander Levin (D-MI). The letter encouraged the Ways and Means Committee to support charitable giving and discouraged Camp from enacting several proposals that would limit giving.

There was specific concern expressed by the Charitable Giving Coalition over proposals to create a 28% cap on tax savings, a dollar cap on itemized deductions and a credit or floor on charitable giving.

1. Tax Savings Cap of 28% – The White House budget proposes limiting tax savings to the 28% bracket even though taxpayers may be in the 39.6% bracket. CGC suggests that "if the Administration's proposed 28% cap were imposed, the sector could lose upwards of $5.6 billion per year." Another study by the nonpartisan Tax Policy Center suggested that the gift loss could be 2.2% to 4.1%, with a total potential reduction of $9.1 billion each year in charitable giving.

2. Dollar Cap on Itemized Deductions – Another proposal is to create a fixed limit such as $50,000 on itemized deductions. Because many Americans with larger incomes would reach that limit through a combination of mortgage deductions, medical deductions and state and local taxes, they could find that their charitable gifts are nondeductible. This would have a very harmful impact on charitable giving.

3. Credit or Floor – A third proposal is to convert the charitable deduction into a credit. A 12% credit for giving is estimated to reduce the total amount contributed by $9.17 billion. Finally, if there were a 2% adjusted gross income (AGI) floor on giving, only gifts over the 2% floor would be deductible. The loss in giving is estimated at $3 billion for this plan.

CGC emphasizes that charitable giving is a "unique" deduction because it rewards a selfless act. Donors are making gifts of their income to assist those in need.

According to a survey by CGC, one dollar in giving can produce up to three dollars in benefit for the federal government. Because charitable services in relief efforts, education, medical care and other areas reduce the requirement for the state and federal governments to provide similar services, charitable gifts are uniquely cost-effective and therefore should be encouraged.

Finally, CGC notes that there already has been an impact on charitable giving through the "Pease" provisions of the American Taxpayer Relief Act. There is a 3% floor on itemized deductions for upper income persons that may reduce charitable giving.

CGC emphasizes that the charitable deduction helps in "building better communities, including basic human services for the disadvantaged, protecting the environment, improving education and health through direct delivery and research, empowering cultural institutions to enhance people's lives, strengthening the economy, creating jobs and much more."

Editor's Note: While the actions of Congress are always somewhat uncertain, there is a significant likelihood of tax reform in the next few years. The Charitable Giving Coalition is taking a proactive position in protecting the charitable deduction. These actions are very important because there may be future itemized deduction limits.

Published May 17, 2013
Previous Articles
TaxReform.Gov Seeks Your Opinion
Mortgage Interest Deduction Supported
President and VP Release 2012 Tax Returns